Upcoming Workshops: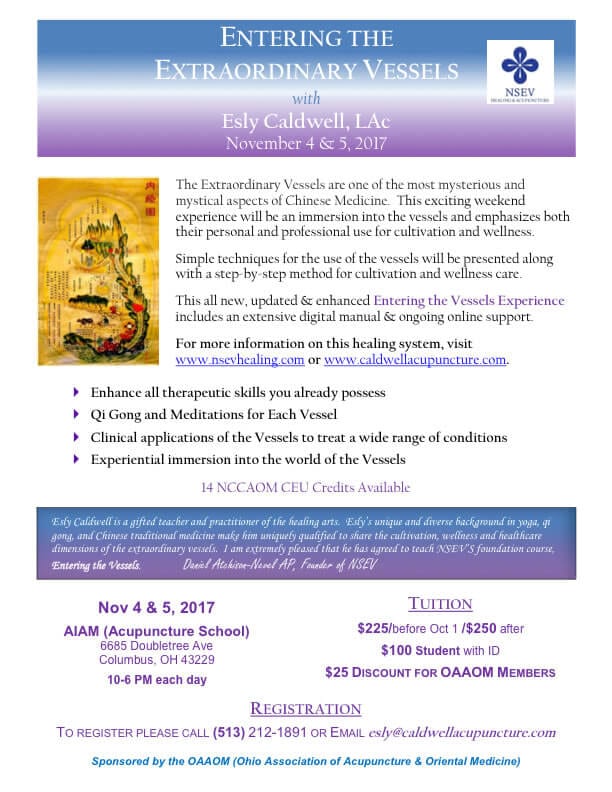 Past workshops:
Boston, MA April 2017
Boston, MA Dec 2016
Miami, FL August 2016
Workshop Testimonial:
I took Esly Caldwell's Extraordinary Vessel workshop this past April. I have been practicing acupuncture for over 20 years and knew a little about the EVs but this workshop excited me about this work more than anything I have studied in the past 10 years.
I had a toxic poisoning from mold 5 years ago which left me with chronic headaches and pain on the roof of my mouth. At the end of each class Esly gives a treatment to all the students on the same vessel. He didn't know my history and the first treatment was incredibly profound. The pain on the roof of my mouth disappeared. After 3 days of classes and 3 treatments, my headaches went away and haven't really returned. I am blown away by the EVs. I want to learn as much as possible about them. They are mysterious, deep and profound.
Esly's teaching was clear, simple but effective. He is warm, accessible and patient with our endless questions. I think Esly is an amazing teacher. I can't wait to take another class with him.
I have been using the EVs in my treatment room with positive results ever since. I am eager to learn more so that I can help patients as much as I have been helped by the EVs.
~ Margaret Rydings LAc, Boston, MA